I tried to set a goal of how many books to read in the year. Last year (2022) I wanted to read 24 books and ended up reading 25. I had a wide range that I read. Some were for school (Masters of Theology), some were fiction for fun (for example, Jeff Carson's David Wolfe series is awesome), and for growth with my relationship with the Lord.  
I use Goodreads to keep track of my progress. I don't usually add a review on there but others do and sometimes it is helpful to read what others think about the book. You can set up your reading goals and add the books as you go.
Here are 5 of the ones I took away the most from:
John Mark Comer, a pastor in Portland, brings forth this thought-provoking book about living a life of honesty. He is influenced by Dallas Willard and thinking spiritual formation. I did this book as an audiobook. John Comer read was the narrator and it was good. His writing style is different, and you need to listen well. I think I would like to go back and read it the next time around. 
Comer writes, "Human beings simply can't live without loving relationships and meaning to both our suffering and our existence as a whole. Jesus comes to offer both." This quote shows the focus of the book is on the power of the gospel transforming our lives.
After reading George Orwell's 1984, I was intrigued with dystopian social science fiction. I wanted to read Amusing Ourselves to Death by Neil Postman. It takes a different approach to dystopian literature that instead of the government limited reading and knowledge, people are so amused by news and media that they are apathetic to reality. Postman warns that we would become so inundated with irrelevant information that we would be apathetic to what does matter. Given today's strong social media presence this is very timely.
Uchi Anizor is an associate professor of Theology at Biola University. This book was challenging and very needed. Anizor describes what apathy is and the dangers for the Christian. It is a light book and easy to read. I would recommend this book as a read for Christians.
Anizor writes, "Overcoming Apathy is an attempt to think through the concept, experience, and healing of apathy. Its goal is to help readers see apathy and its causes more clearly, highlight how God responds to the apathetic in gracious and hope-filled ways, and explore practices to help combat it in the day-to-day." Christians need this reminder as we are inundated with many distractions. The danger is becoming apathetic to God's calling in our lives. Apathetic to loving our neighbors. Apathetic to loving God.
Collin Hansen and Sarah Eekhoff Zylstra do an excellent job of presenting the importance of the gospel in an age of anxiety. Through storytelling they share the struggles of others relieved and impacted by the gospel. We live in an age and day where hope is lost and many are anxious. It is so important for us to point others to true hope that is in Jesus Christ.
The Apostle Paul writes, "May the God of hope fill you with all joy and peace in believing so that by the power of the Holy Spirit you may abound in hope" (Romans 15:13).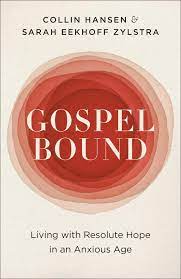 Rebecca McLaughlin addresses contemporary terms and what do they mean. This was a great and short read that helps navigate through some the culture wars of today. It is so important for Christians today to be grounded in the Word of God (1 Peter 3:15).
McLaughlin handles tough topics such as Black Lives Matters, Women's Rights, and Transgenderism with grace and truth. I recommend this read to Christians to help navigate those tough topics while being able to address them with truth in love.